Australian education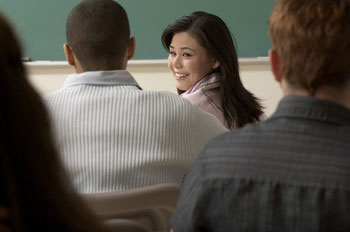 AUSTRALIA HAS experienced a record increase in the number of student visas issued in 2000/2001, attracting over 146,000 overseas students to its shores and promising to deliver yet another successful year to Australia's education industry.
An influx of students from Asia and the United States were the primary sources of the increase, with students from China, Malaysia, Hong Kong and Indonesia making up the most substantial portion of Australia's offshore visa grant recipients.
The latest figures, released by the Federal Minister for Immigration and Multicultural Affairs last month, represents a 23 per cent leap in total visa grant numbers over 1999/2000, which was an additional nine per cent up from figures of the same period the year before. Offshore visas for the undergraduate sector showed the most apparent growth, with visa grants rising by 47 per cent to 38,555.
The People's Republic of China topped the list with the largest number of offshore student visa grants, totalling 8886. This represented an increase of 46 per cent over 1999/2000. Hong Kong and the United States also had significant growth, increasing by 26 per cent and 16 per cent respectively. Top countries for onshore visas included the Republic of Korea (11,721), Indonesia (7343) and China (6134).
According to Professor Fazal Rizvi, pro vice chancellor (International) at one of Australia's premier international education institutions RMIT, there are a number of reasons why Australia's visa numbers have increased.
"The field of international education in Australia is maturing -- the quality level of Australian education is also better known," he said. "We're starting to get second generation education students, who have had relatives or even parents educated in Australia 15 years ago.
"Also, Australia has a competitive advantage over the US and the UK and even Canada, because of the low Australian dollar. It's closer, safer and is recognised as having an equal level of education -- so students think why pay twice as much?"
FAST MOVERS
Onshore Student Visa Grants by citizenships 2000/2001,
Top 15 countries
Rank Citizenship 1998/1999 1999/2000 2000/2001
1 Republic of Korea 6034 6159 11721
2 Indonesia 9226 6736 7343
3 Peoples Republic of China 2719 3887 6134
4 Japan 4353 3973 4701
5 Thailand 2836 2591 3616
6 India 2707 2526 3343
7 HKSAR of the PRC 2721 1317 2819
8 Taiwan 2458 2038 2463
9 Malaysia 2388 1826 1914
10 Vietnam 1726 1285 1322
11 Singapore 1454 1210 1214
12 Sri Lanka 1009 790 1001
13 United Kingdom 1120 952 923
14 Bangladesh 398 332 767
15 Brazil 467 323 761
Offshore Student Visa Grants By Citizenship 2000/2001,
Top 15 countries
Rank Citizenship 1998/1999 1999/2000 2000/2001
1 Peoples Republic of China 3583 6079 8886
2 United States 4894 6407 7426
3 Malaysia 4771 5900 6236
4 Indonesia 9113 5439 6070
5 HKSAR of the PRC 3467 4544 5740
6 Japan 4915 4438 5264
7 Thailand 2661 3668 4439
8 Republic of Korea 3056 3390 4402
9 Singapore 4006 4455 4108
10 India 4517 4310 3512
11 Taiwan 2214 2164 2245
12 Norway 1154 1757 1918
13 Brazil 951 1163 1766
14 Germany 1241 1521 1755
15 Sweden 1163 1510 1462
IDP's executive general manager Dorothy Davis believes the increase in visa numbers has been triggered by the overall attractiveness of Australia to the international students market.
For Asian students, Australia is not only within close proximity, but also provides a friendly environment, the same quality of education in English as the UK and the US but at a lower cost, and strong professional training and workforce, she said. For European students, Australia also offers an opportunity to face new personal experiences in a pleasant, friendly climate.
As a whole, Australia's education industry continues to play an influential and important role in Australia's export trade. Education is worth in excess of $3.7 billion every year, and is ranked as our second largest services export earner after tourism. Third after the US and the UK, Australia's education industry has expanded rapidly over the past decade, with over 1000 registered institutes now offering courses to international students from a high school to postgraduate level.
Education is also our eighth largest export industry, making up three per cent of Australia's total exports. Australian Government-funded education organisation Australia Education International (AEI) estimates around 182,000 international students have attended Australian education institutions in 2000. This is well over 20,000 more than in 1999, and about 100,000 more than in 1990. The University of NSW (UNSW), who boasts of the largest intake of overseas students each year, enrolled nearly 7000 overseas students in 2000, earning $101 million in fees.
Although Australian institutions are a top destination for students from all over the world, Asia makes up the majority of Australia's overseas students. Currently, Singaporean students are the largest single group of overseas students in Australia, with 19,700 students now undertaking studies at an Australian education institution. Hong Kong is the next highest contingent, with 19,600 enrolled in 2000. Malaysia, India and Indonesia also contributed significant numbers of students over the past year. Business, administration and economics are the most popular courses to take, with 49.8 per cent of students in 1999 enrolling within this field of study. Science, including computer science, was the second most popular field.
But while Australia's education sector continues to mature and expand, changes to the way international students apply for visas are hinting at a turbulent year ahead. Federal Government revisions to the international student visa structure in an attempt to crack down on visa fraud has left many institutions and foreign recruitment agencies concerned that potential students will be deterred from applying for courses in Australian education institutions.
The tougher visa guidelines, which took effect in July, requires students from Asian countries such as India to pass English languages tests as well as provide proof they have enough money for tuition fess and living expenses while in Australia.
According to a recent survey, "Australia and the Indian Postgraduate Science and Technology Market", undertaken by AEI of 152 Indian postgraduate students who chose not to study in Australia, many respondents identified stringent visa conditions and lack of job opportunities as major deterrents from coming to Australia. While Australia offered attractive lifestyle and environmental features, the lack of opportunity for work after university, as well as rules which prevent graduates staying on after degrees, resulted in the majority opting for the US or UK instead.
RMIT's Rizvi says that he is sceptical about the benefits of the new visa guidelines. While he will admit the changes could bring an improvement to the uptake of students from China, in other countries such as India they may have an adverse effect.
"It's like using a hammer to crack a nut," he said.
Parliamentary secretary to the Minister for Immigration and Multicultural Affairs Senator Kay Patterson is confident, however, that the guidelines will allow continued growth in the number of genuine students coming to Australia.
"The new student visa changes will allow for greater transparency in requirements and greater consistency in decision-making," Patterson said.
To further Australia's reputation worldwide, both Australian educational institutions and the Government are launching several new initiatives to increase Australia's involvement in international education.