MassBay Council Symposium Promotes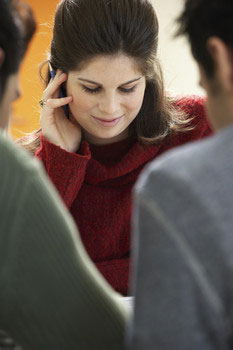 College Students Test Diplomatic, Political Skills In International Crisis Scenario
While many college students were sleeping in or just enjoying some time off on the last Saturday of February, a group of collegians in the New England area were working to save the world, or at least a portion of it, as part of an annual geopolitical symposium presented in Boston by the Navy League's Massachusetts Bay Council.
They were dealing with a struggle for power between hardliners and reformers in North Korea that could lead, potentially, to reconciliation and unification with South Korea. It also could result in North Korea's further isolation and the possibility of military - and perhaps nuclear - confrontation.
On the sidelines are South Korea, the United States, the United Nations, China and other Asian nations, who may be thrust deeper into the situation, willingly or not, as events transpire. As the scenario moves forward, the situation becomes more chaotic as new economic, political, cultural and military complications are introduced.
The crisis was all part of a political gaming symposium involving students from 13 colleges and universities, as well as representatives from the Naval War College, ROTC programs and other service organizations. Now in its 15th year, the symposium was held at Boston University's College of Communications and drew more than 70 students, monitors, moderators and speakers. Attendance has been as high as about 100, according to council organizers.
"It went very well," Massachusetts Bay Council President Irving X. Gorman noted after the event. "All the work they did was really pretty good. It's always difficult to pick the best presentation."
The day-long symposium features a war-game like scenario, typically modeled after programs developed by the Naval War College in Newport, R.I. Students are divided into teams - mixing with participants from other schools - and asked to build a strategy to solve/defuse an international crisis through a combination of diplomatic, military, economic and political means.
A group of controllers - typically Navy League council members and service or education officials - selects a team judged as the builders of the best presentation. That team then presents its solution as a final briefing to the rest of the participants, who assemble as something of a model U.N. or regional authority to quiz the winners on their plan and provide an overall critique.
"I think this is just about the most educational thing the Navy League does throughout the country," said Massachusetts Bay Council member Harold Learson, national vice president for youth. "It's a great experience. It's a long day, but the participants seem to really enjoy it. You can't go in there and work with these students for a day and not be impressed."
"The players do very well at it," Gorman added. "And the exercise helps them develop leadership and logic skills."
Youth Involvement
The symposium is a labor-intensive effort - it typically takes four to five months by a group of three to five council members to get each year's program organized, German said. This year's symposium chairman was George Ripsom.
The event is not a money-making proposition for the council, nor does it generate much in the way of outside publicity. The Massachusetts Bay Council continues to conduct the symposium, Learson said, "Because the primary mission of the Navy League is to educate the public, and we are fulfilling our mission."
It also is getting word out about the Navy League and its mission to a group of people who otherwise might never hear about it. While some participants come from a military environment - ROTC programs or schools such as the Norwich University, the Coast Guard Academy or the Massachusetts Maritime Academy - many come from political science programs at state or private institutions.
This year, for example, Providence College, College of the Holy Cross, the Worcester Polytechnic Institute, Boston University, Massachusetts Institute of Technology, Boston College, Suffolk University, Brown University, Harvard University, Clark University, Bryant College and the University of New Hampshire were represented, according to German.
"Contact with youth is everything," Learson said. "They are the best group we can educate because they are the leaders and Navy Leaguers of the future. We should be doing all we can to interest them now."
Based largely on its sponsorship of the symposia, the council has been given the Navy League's National Education Award three times. Navy League national headquarters encourages community education programs such as seminars and symposia, as well as guest speakers and special events. According to Navy League's Community Education Guide, "Every council should be conducting education events or forums on a continuing basis."
"That's the heart and soul of what this organization is about," said Mary Ellen Baldwin, executive director of the Hampton Roads, Va., Council and chairwoman of the Navy League's Public Education Committee. "But councils struggle with bringing in really good programs on a regular basis. It's a constant battle because there is so much to do."
Regional or local issues and concerns typically drive council community education programs, Baldwin said. She noted that community education, and the councils' role in providing it, would likely be priority items of discussion at the Navy League Annual Convention in San Diego in june.
"Sharing information is everything," Baldwin said.
'Not Your Typical Education Program'
The Massachusetts Bay Council has offered to give the symposium, or parts of it, to other councils. But thus far, despite the support of Navy League national headquarters, there have been no takers.
The game part of it can be made available to anyone, as the council prepares new scenarios each year to fit current world events, Learson said. The actual organization and format of the symposium must be tailored to local assets. The Massachusetts Bay Council's day-long symposium is a streamlined version of what typically is a three-day session at the Naval War College, National Defense University or other DoD advanced school.
Even in its abbreviated form, the council's symposium scenario presents quite a bit to digest. It is split into three diplomatic and/or military stages of escalation. Students develop solutions based on current U.S. policy and/or current military resources that can be brought to bear on the specific incident.
"It certainly is not your typical education program," Learson said. "But people who come to ours really like it. I think it's an excellent experience."
Simple logistics can be a factor in whether a council can pull off a successful symposium such as this. For a similar program to work with college participants, it definitely helps to be in an area where a council can draw a lot of students, Gorman said. "We're lucky because there are a lot of colleges and universities around here, and there are military facilities here as well," he said.
The most difficult part of organizing the symposium, Gorman said, really comes down to scheduling and picking a date that doesn't conflict with school vacation periods or other activities. Typically, the Massachusetts Maritime Academy would be represented, but this year the students were at sea for training, which cost the symposium about 20 attendees.
The symposium was first conducted at Tufts University's Fletcher School of Law and Diplomacy, based on the idea of a council member who had experience with war-gaming from the Naval War College, according to Learson. "He thought it would be a great experience for college students to gain exposure to stuff they've never experienced and give them practice in decision-making, diplomacy and working as a team," he said.
After several years, the symposium moved over to Boston University where retired Rear Adm. Brent Baker, former dean of its communications school, took an interest in it and it's been there ever since. Baker has served regularly in the role as moderator during the final briefing presentation, and was on board again this year. The school's current dean, John J. Schulz, was the lunchtime guest speaker during this year's event, Gorman said.
Students also have a habit of returning, Gorman and Learson noted. Some have even returned after graduation to serve as controllers. "It takes a big commitment on the students' parts just to come and be a part of it," Learson said. "The fact that some keep coming back shows they really do get a lot of out it."